Ardentinny Centre is situated in the coastal village of Ardentinny on the shores of Loch Long in the Loch Lomond and the Trossachs National Park.
We can accommodate groups of up to 80 people aged eight and above in our purpose-built centre.
Available to groups, youth clubs, families & friends.
We take groups for exam study, art, music rehearsal, biology and field studies, as well as outdoor pursuits education or event training.
With full board accommodation, including all bedding.
You couldn't ask for a better location, with beautiful beaches, hills, forests and lochs right on the doorstep, Ardentinny is the perfect place to explore, discover and learn in a truly inspiring landscape. Out here in the wilds, you can experience what 'remote' really feels like.
Only take 1 ½ hour from Glasgow!
FACILITIES
Dorms
Our nice 4- and 6-bed dorms offer accommodation up to 80 young people above the age of 8. Divided into the left boys' wing and the right girls' wing, the upper floor provides 16 well laid-out dorms, showers, toilets and several staff rooms. Downstairs, there are another 9 dorms, all en-suite. All dorms are provided with spacious storage space, bedding, linen and central heating. There is also one accessible room and bathroom.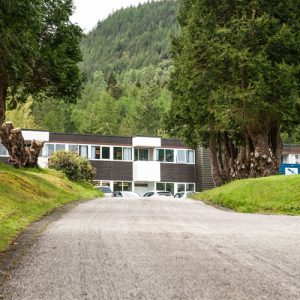 Staff Lounge
Our staff lounge provides a cosy, private meeting place for visiting staff, with tea and coffee, a fridge and microwave, and free Wi-Fi.
Staff Rooms
Visiting staff can retire from the excitement of the day in their private en-suite rooms. There is no charge for accompanying adults on a ratio of 1 party leader per 10 young people, but we usually charge a fee for additional adults.
Meeting rooms
There are several meeting rooms across the centre, perfect for group discussions, workshops, reflection time or completing diaries. There are also play areas with a soccer table, a pool table and a selection of group games.
Other facilities
Our communal dining room lets young people experience eating together and they will have the responsibility of keeping it tidy and organized.
We also have other essentials such as 2 drying rooms, equipment rooms and an operations room.
FOOD
When you are out and about the whole day, getting the right food is very important to keep energy levels high in order to fully enjoy our exciting activities.
At Ardentinny Centre, we do not offer cafeteria-style food. Instead, our visitors will get freshly made, delicious and nutritious food, especially chosen to keep energy levels high and provide a healthy diet. There will be plenty of food three times a day plus a small supper before bedtime. Usually, there will be a choice of two dishes, one of which will be suitable for vegetarians, but we can accommodate to any dietary requirements but not necessarily dietary preferences.
Our chefs will go out of their way to accommodate to any special dietary needs – just let us know beforehand!
"Challenges are what makes life interesting
and overcoming them is what makes life beautiful."
Joshua J. Marine